Workshop ON Drosophila Melanogaster (Fruit Fly) a promising and affordable model in phytomedicine research
---
Short Certificate Course
on
Drosophila Melanogaster (Fruit Fly)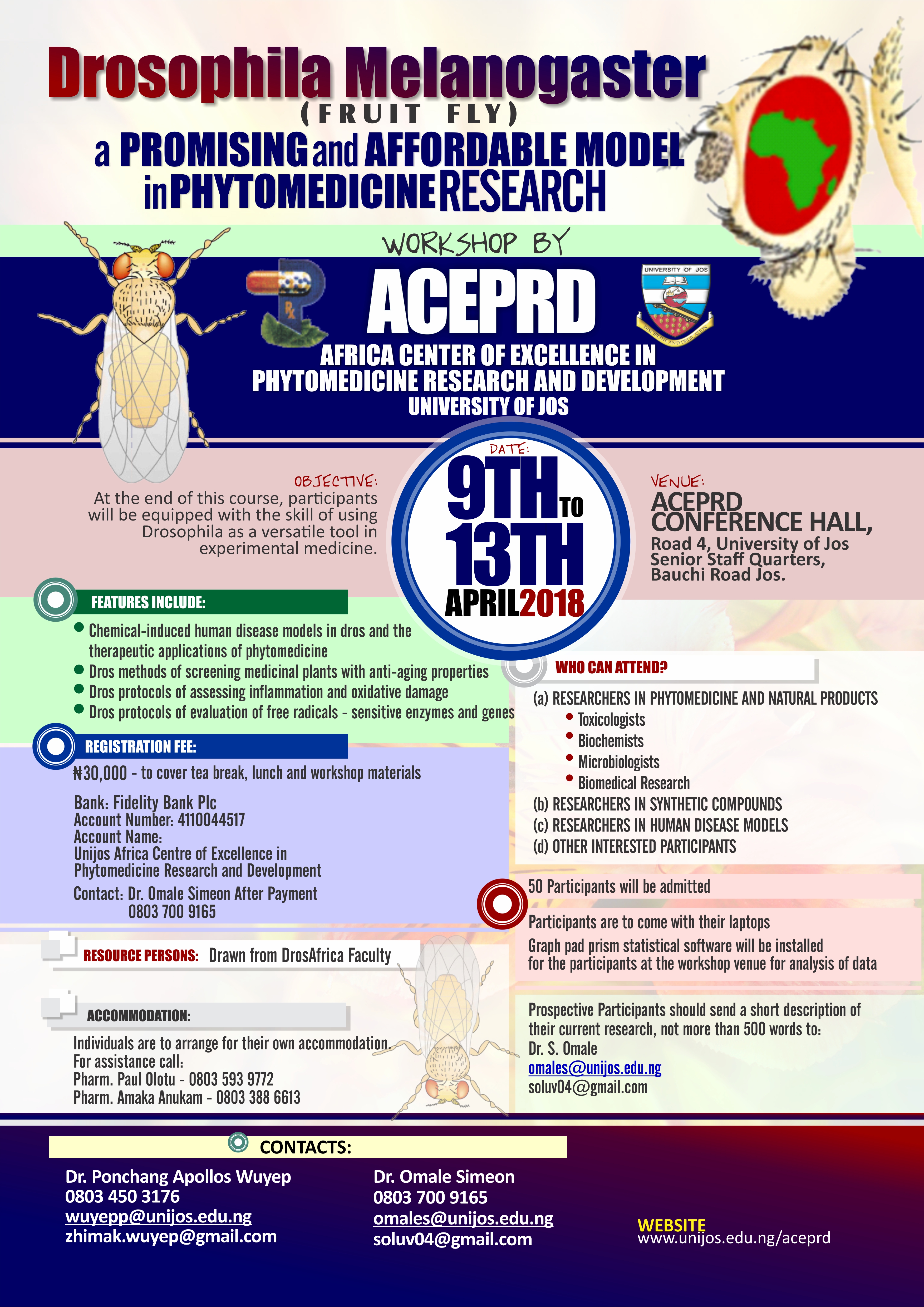 | | |
| --- | --- |
| START DATE: | April 9, 2018 |
| END DATE: | April 13, 2018 |
| REGISTRATION FEE: | 30, 000.00 NAIRA ONLY |
| REGISTRATION DEADLINE: | April 9, 2018 |
| ACCEPTANCE NOTIFICATION: | April 9, 2018 |
Drosophila Melanogaster (Fruit Fly) a promising and affordable model in phytomedicine research
At the end of the course, participants will be equipped with the skill of using Drosophila as a versatility tool in experimental medicine.
FEATURES INCLUDE:
1. Chemical - induces human diseases models in dros and the the therapeutic of phytomedicine
2. Dros method of screaning medicinal plants with anti-aging properties
3. Dros protocols in accessing inflammation and oxidative damage
4. Dros protocol of evaluation of free radicals - sensitive enzymes and genes.
WHO CAN ATTEND?
(a) Researchers in phytomedicine and natural products.
1. Toxicologist
2. Biochemists
3. Microbiology
4. Biomedical Research
(b) Researchers in synthetic compounds
(c) Researchers in Human disease models
(d) Other interested participants
Total number of 50 participants will be admitted
Participants are to come with their laptops. Graph Pad Prism statistical software will be installed for the participants at the workshop venue for analysis of data.
Prospective participants should send a short description of their current research, not more than 500 words to the contact address below:
Name: Dr. Simeon Omale
Phone: 08037009165
email: soluv04@gmail.com or omales@unijos.edu.ng
The registration fee will cover tea break, lunch and workshop materials.
Payment can be made to the bank account below or at the event venue during registration.
BANK DETAILS
Bank: Fidelity bank Plc.
Account Number: 4110044517
Account name: Unijos Africa Centre of Excellence in Phytomedicine Research and Development
Kindly contact Dr. Omale Simeon after payment
Phone: 08037009165
Participants are to make arrangement for their accommodation and transportation to the event venue. Tea break and Lunch will be made available. For assistance on accommodation, kindly contact the following people listed below.
Name: Pharm. Paul Olotu
Phone: 08035939772
Name: Pharm. Amaka Anukam
Phone: 08033886613
ACEPRD, University of Jos
CONTACT PERSONS

Name: Dr. Ponchang Apollos Wuyep
Phone: 08034503176
email: wuyepp@unijos.edu.ng or zhimak.wuyep@gmail.com

Name: Dr. Simeon Omale
Phone: 08037009165
email: soluv04@gmail.com or omales@unijos.edu.ng
ACEPRD, Conference hall
Road 4, University of Jos Senior Staff Quarters,
Bauchi Road/ Bauchi Ring Road Jos.