Workshop ON Applications of cell lines in phytomedicine
---
Short Certificate Course
on
Applications of cell lines in phytomedicine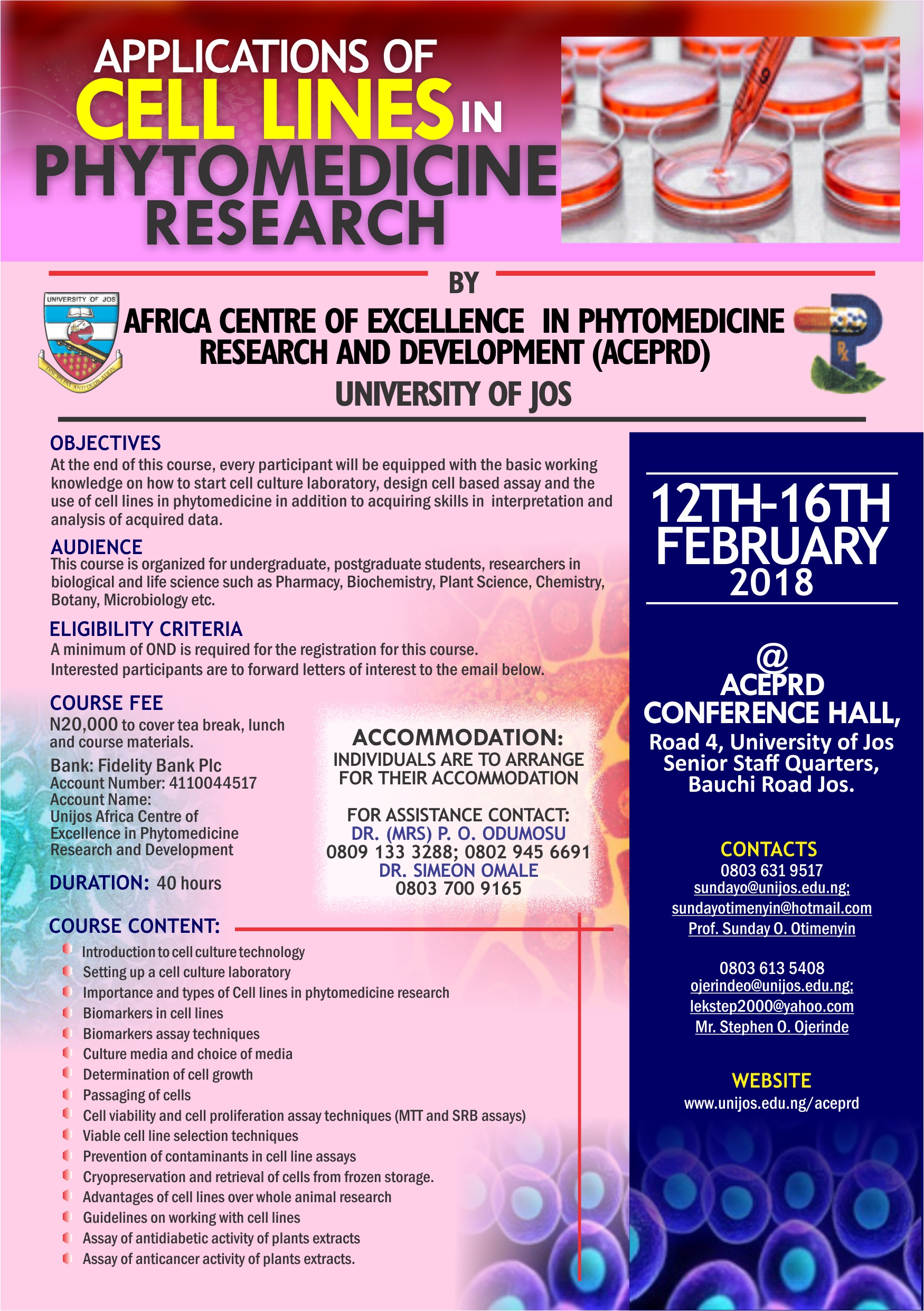 | | |
| --- | --- |
| START DATE: | Feb. 12, 2018 |
| END DATE: | Feb. 16, 2018 |
| REGISTRATION FEE: | N20,000 |
| REGISTRATION DEADLINE: | Feb. 12, 2018 |
| ACCEPTANCE NOTIFICATION: | Feb. 12, 2018 |
Applications of cell lines in phytomedicine
At the end of this course, every participant will be equipped with the basic working knowledge on how to start cell culture laboratory, design cell based assay and the use of cell lines in phytomedicine in addition to acquire skills in interpretation and analysis of acquired data.
Course Contents:

Introduction to cell culture technology


Setting up a cell culture laboratory


Importance and types of cell lines in phytomrdicine research


Bio-markers in cell lines


Bio-markers assay techniques


Culture media and choice media


Determination of cell growth


Passaging of cells


Cell viability and cell proliferation assay techniques (MTTand SRB assays)


Viable cell line selection techniques


Prevention of contaminants in cell line assays


Cryopreservation and retrieval of cells from frozen storage


Advantages of cell lines over whole animal research


Guidelines on working with cell lines


Assay of antidiabetic activity of plants extracts


Assay of anticancer activity of plant extracts.
This course is organized for undergraduate, postgraduate students, researchers in biological and life science such as pharmaceutical science, Biochemistry, Plant science, Chemistry, Botany, Microbiology etc.
ELIGIBILITY CRITERIA
A minimum of OND is required for the registration of this course. Interested participants are to either register online by clicking the register button below, fill in the form and submit or forward letters of interest to the email address below.
CONTACT
Name: Prof. Sunday O. Otimenyin
Phone: 08036319517
Email1: sundayo@unijos.edu.ng
Email2: sundayotimenyin@hotmail.com
Name: Mr. Stephen O. Ojerinde
Phone: 08036135408
Email1: ojerindeo@unijos.edu.ng
Email2: lekstep2000@yahoo.com
The tuition fee will cover tea break, lunch and course materials.
Payment can be made to the bank account below or at the event venue during registration.
BANK DETAILS
Fidelity bank Plc.
Account Number: 4110044517
Account name: Unijos Africa Centre of Excellence in Phytomedicine Research and Development
Participants are to make arrangement for their accommodation and transportation to the event venue. Tea break and Lunch will be made available. For assistance on accommodation, kindly contact the following people listed below.
Name: Dr. (Mrs.) P. O. Odumosu
Phone: 08091333288 or 08029456691
email: podumosu@unijos.edu.ng or patodumosu@googlemail.com
Name: Dr. Simeon Omale
Phone: 08037009165
email: soluv04@gmail.com
ACEPRD, University of Jos
ACEPRD, Conference hall
Road 4, University of Jos Senior Staff Quarters,
Bauchi Road/ Bauchi Ring Road Jos.