Workshop ON Substance Abuse (Addiction, prevention and management )
---
Short Certificate Course
on
Substance Abuse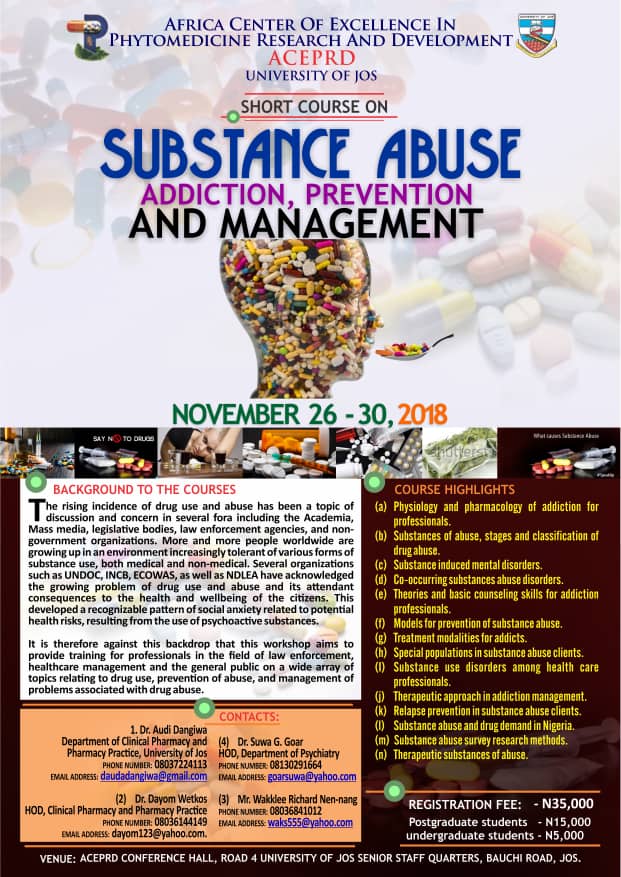 | | |
| --- | --- |
| START DATE: | Nov. 26, 2018 |
| END DATE: | Nov. 30, 2018 |
| REGISTRATION FEE: | N35,000 (POSTGRADUATE STUDENTS = N15,000, UNDERGRADUATE STUDENTS = N5,000)) |
| REGISTRATION DEADLINE: | Nov. 22, 2018 |
| ACCEPTANCE NOTIFICATION: | Nov. 23, 2018 |
Substance Abuse (Addiction, prevention and management )
Background to the course
The rising incidence of drug use and abuse has a topic of discussion and concern in serveral fora including the academia, mass media, legislative bodies, law enforcement agencies and non governmental organization. More and more people worldwide are growing up in an environment increasingly tolerant of various forms of substance use, both medical and non medical. Serveral organizations such as UNDOC, INCB, ECOWAS, as well as NDLEA have acknowledged the growing problem of drug use and abuse and its attendant consequences to the health and well being of the citizens. These developed recognizable pattern of social anxiety related to potential health risks, resulting from the use of psychoactive substances.
It IS therefore against backdrop that this work shop aims to provide training for professionals in the field if law enforcement, health care management and general public on a wide array of topics relating to drug use, prevention of abuse and management of problems associated with drug abuse.
Course Highlights


Physiology and pharmacology of addiction for professionals


Substances of abuse, stages and classification of drug abuse


Substance induced mental disorders


Co-occurring substances abuse disorders


Theories and basic counselling skills for addiction professionals


Models for prevention of substance abuse


Treatment modalities for addicts


Special populations in substance abuse client


Subsuse use disorders among health care professionals


Therapeutic approach in addiction management


Relapse prevention in substance abuse client


Substance Abuse and drug demand in Nigeria


Substance abuse survey research methods


Therapeutic substances of abuse


1. Academia
2. Mass media
4. Legislative bodies
5. Law enforcement agencies
6. Non governmental organization
The registration fee will cover tea break, lunch and workshop materials.
Payment can be made to the bank account below or at the event venue during registration.
BANK DETAILS
Bank: Fidelity bank Plc.
Account Number: 4110044517
Account name: Unijos Africa Centre of Excellence in Phytomedicine Research and Development
Kindly contact Mr. Ohaeri Uchechukwu after payment
Phone: 08064920594
Email: ohaeri.uchechukwu@yahoo.com
Participants are to make arrangement for their accommodation and transportation to the event venue. Tea break and Lunch will be made available. For assistance on accommodation, kindly contact the following person.
ACEPRD, University of Jos
CONTACT PERSONS
Dr. Audi Dangiwa
Department of Clinical Pharmacy, University of Jos
daudadangiwa@gmail.com
08037224113
Dr. Dayom Wetkos
HOD, Clinical Pharmacy, University of Jos
dayom123@yahoo.com
+2348033646268
Dr. Suwa G. Goar
HOD, Department of Psychiatry
goarsuwa@yahoo.com
08130291664
Mr. Wakklee Richard Nen-nang
waks555@yahoo.com
08036841012
ACEPRD, Conference hall
Road 4, University of Jos Senior Staff Quarters,
Bauchi Road/ Bauchi Ring Road Jos.