Workshop ON Seperation Techniques in Phytomedicine
---
Short Certificate Course
on
Seperation Techniques in Phytomedicine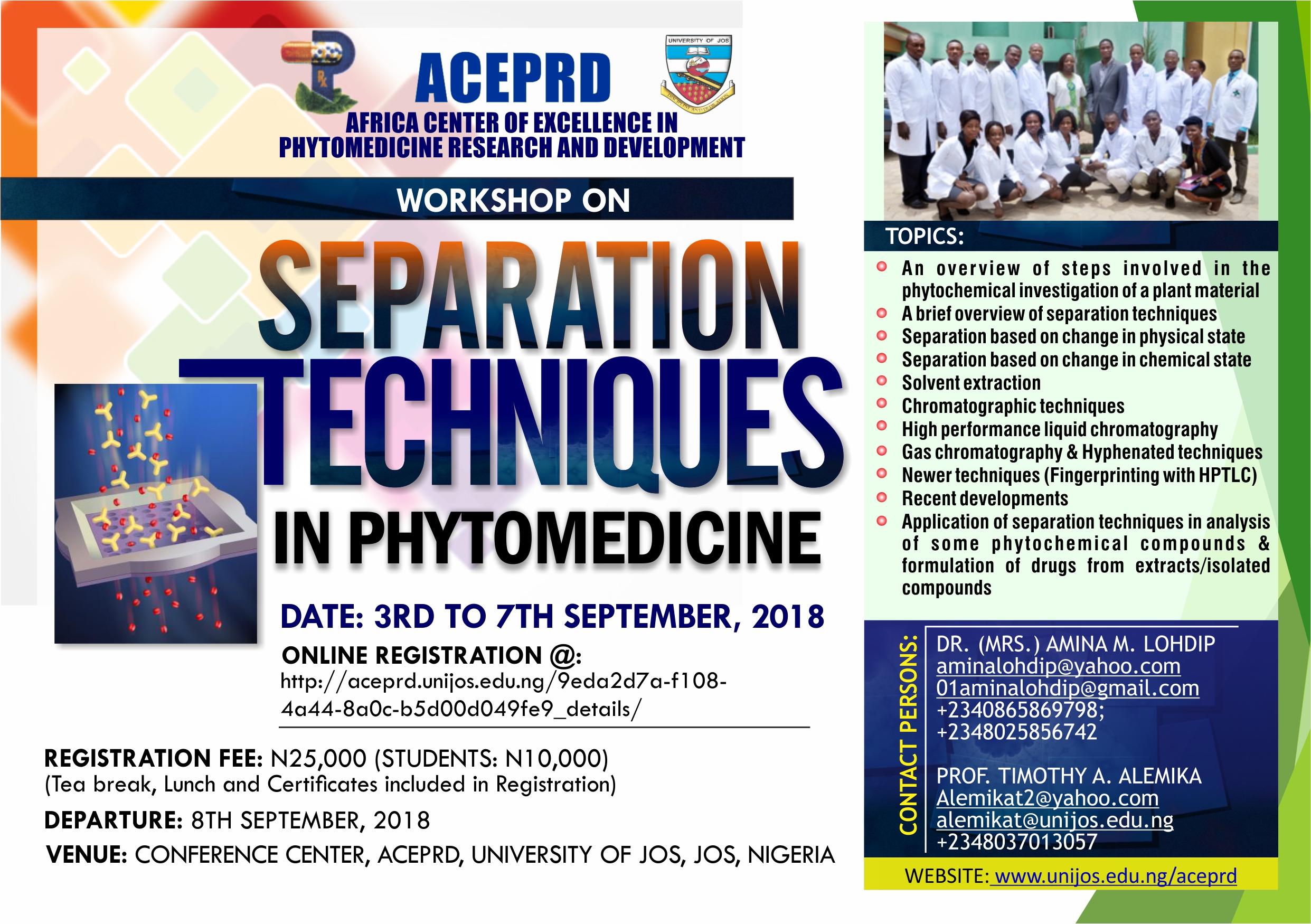 | | |
| --- | --- |
| START DATE: | Sept. 3, 2018 |
| END DATE: | Sept. 7, 2018 |
| REGISTRATION FEE: | N25,000 (STUDENTS: N10,000) |
| REGISTRATION DEADLINE: | Aug. 31, 2018 |
| ACCEPTANCE NOTIFICATION: | Aug. 27, 2018 |
Seperation Techniques in Phytomedicine
Topics include;
1. An overview of steps involved in the phytochemical investigation of a plant material
2. A brief overview of separation techniques
3. Separation based on change in physical state
4. Separation based on change in chemical state
5. Solvent extraction
6. Chromatographic techniques
7. High performance liquid chromatography
8. Gas chromatography & Hyphenated techniques
10. Newer techniques (Fingerprinting with HPTLC)
11. Recent developments
12. Application of separation techniques in analysis of some phytochemical compounds & formulation of drugs from extracts/isolated compounds
WHO CAN ATTEND?
(a) Researchers in phytomedicine and natural products.
1. Toxicologist
2. Biochemists
3. Microbiology
4. Biomedical Research
(b) Researchers in synthetic compounds
(c) Other interested participants
The registration fee will cover tea break, lunch and workshop materials.
Payment can be made to the bank account below or at the event venue during registration.
BANK DETAILS
Bank: Fidelity bank Plc.
Account Number: 4110044517
Account name: Unijos Africa Centre of Excellence in Phytomedicine Research and Development
Kindly contact Mr. Ohaeri Uchechukwu after payment
Phone: 08064920594
Email: ohaeri.uchechukwu@yahoo.com
Participants are to make arrangement for their accommodation and transportation to the event venue. Tea break and Lunch will be made available. For assistance on accommodation, kindly contact the following person;
Name: DR. (MRS.) AMINA M. LOHDIP
Email: aminalohdip@yahoo.com, 01aminalohdip@gmail.com
Phone:+2340865869798; +2348025856742
ACEPRD, University of Jos
CONTACT PERSONS
DR. (MRS.) AMINA M. LOHDIP
aminalohdip@yahoo.com
01aminalohdip@gmail.com
+2340865869798; +2348025856742
PROF. TIMOTHY A. ALEMIKA
Alemikat2@yahoo.com
alemikat@unijos.edu.ng
+2348037013057
ACEPRD, Conference hall
Road 4, University of Jos Senior Staff Quarters,
Bauchi Road/ Bauchi Ring Road Jos.